Free Partition Manager for Windows from EaseUs
When you add new hard drives to your computer, you need to properly partition and format the drive, for disciplined and easy storage of data. Even though the Windows Operating provides partition manager, its is very trivial and requires expert level knowledge for proper understanding and usage. Also, it is almost impossible to re-partitioning the drive with Windows built-in partition manager.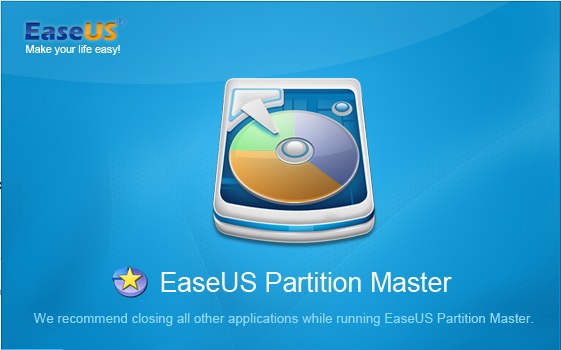 But, here is  a full fledged partition manager software from EaseUS, which can help you partition and format the drives very easily!. It can help you re-size an existing partition, and very importantly your System primary partition where the Windows Operating is installed!.  This would really help you solve the problem of  slow response of Windows Operating system and installed applications, due to the low disk space in the System drive. Extra space can be easily added to the system partition with the help of re-partitioning  feature available in Free Partition Manager.
We have tried the Free Partition Manager from EaseUS, and found that it is a quiet impressive software in terms of functionality, interface and in usage guides. EaseUS team has built the partition manager with a very simple, aesthetic, and easy to use GUI, abstracting all the complexities involved in the partitioning and formatting of hard drives.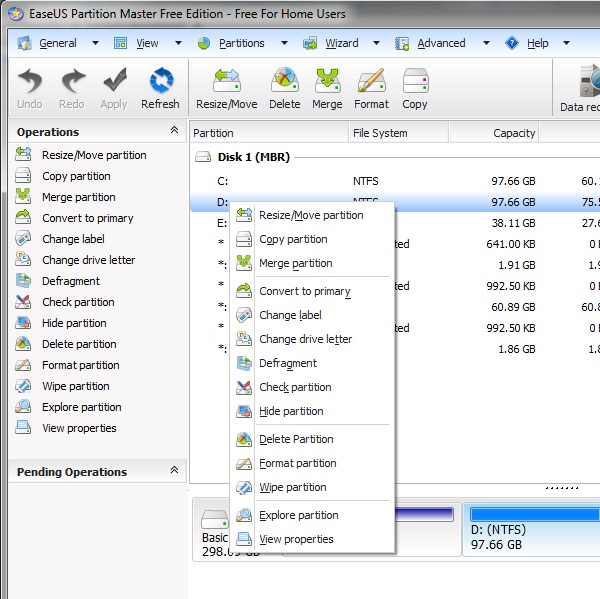 The key features of the Free Edition Partition Manager from EaseUS are;
Resize/Move partitions to avoid data loss, like extending NTFS system partition without reboot to maximize PC performance.
Safely merge two adjacent partitions into a bigger one without data loss.
Create multiple-partitions, delete partition, or directly delete all partitions.
Wipe data on unallocated space.
Wipe disk or wipe partition to permanently wipe sensitive data on disk.
Convert dynamic disk to basic disk and Convert FAT to NTFS file system.
Convert primary partition to logical partition and vice versa: convert a primary volume to logical to create a fifth volume on a disk with 4 existed primary volumes.
Speed up your computer by defragmentation.
Disk surface test to check and find bad sectors and rebuild MBR to boot system again.
Linux partition management: delete, create, format, recover EXT2/EXT3 partition, etc.
Support all hardware RAID, multiple removable storage device, hard disk and GPT disk (support up to 2TB partition on MBR and 4TB partition on GPT).
Its indeed a very useful partition manager, must have, for Windows PCs. Download Partition Manager from EaseUS .