How to Enable or Disable Print on both side of a Paper
When you add or install a new printer to your computer, you will configure the duplex printing mode, the mode for printing on both side of paper,  enabled or disabled. This will decide whether the printer will take care of printing on both side automatically or by manually feeding the pages when one side printing is done.
The following configurations are successfully carried out on a Windows 7 installed computer with a HP Laser Jet Printer installed available in the LAN.
After the installation of the printer driver, if you find that two sided printing is not automatic and you have to manually keep the one sided printer fed to the printer for printing on the other side, follow the steps below to change the Duplex unit mode.
Click on the Start menu button and click 'Devices and Printers' or type "Devices and Printers' in the start menu search box and go to the 'Devices and Printers' location.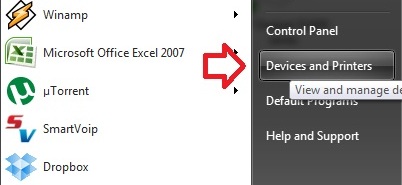 In the 'Devices and Printers',  find the printer icon for the installed printer which you want to configure automatic two side printing option.

Right click on the printer icon and select 'Printer properties'.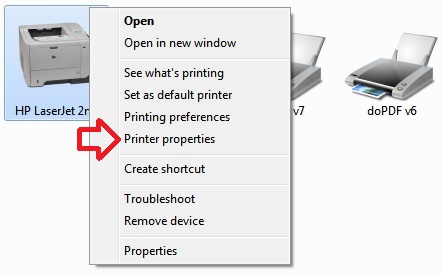 In the properties dialog appears, click on the 'Device Settings' tab and under the specific printer, find 'Installable Options', under that go for  'Duplex Unit (for 2-sided printing), change to 'Installed' if you want to automatic 2-sided printing. Select 'Not Installed' for manually feeding two side prints.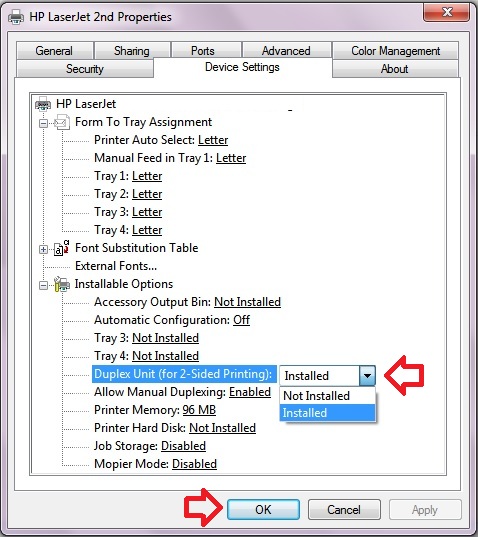 Click on 'OK' to effect the configuration changes. Now try  to print your documents, you will find automatic print on both side option in the Printer settings.
Feel free to put your comments, if you face any problem in configuring this on your computer.