Happy BirthDay Wishes for Google
Google has completed its 9 years in the Web World, dominating in Search and related technologies. Beginning with search engine they have reached level to challenge the Operating System major, Microsoft Technologies, in web technologies and tools.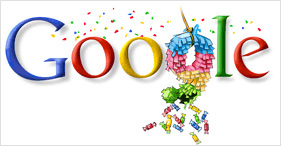 You can see the complete history road map of Google success stories from Google's corporate details section. We take this opportunity to wish Google a Very Happy BirthDay and very successful year ahead. Hope, Google will reach more heights in the coming year in the internet and related technology services.
Suggested reading
Google Home Page in 1998
Google is the Powerful Brand
Let Google Index Your Brain !!!
Microsoft's Google Envy is reflected in Windows Live Hotmail ID creation
Do remote presentations and chat conferencing with Google Presentation and Talk Gadget
Get SMS Event Alerts from Google Calendar.
Create Your Own Stock Charts with Google Spreadsheet