iOS 7 theme for Android Phones
iOS 7 is the latest and advanced mobile operating system from Apple!. iOS team has completely revamped the look and feel along with the lock screen and notification mechanisms in iOS7.
Do you have an android phone and you would like to experience the look and feel of iOS 7?, there are few free applications and themes to help you!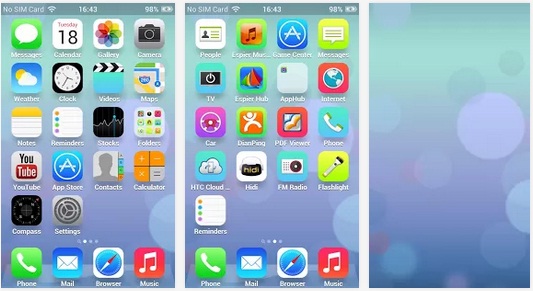 Based on Hi Launcher
You may try the iOS 7 theme for Hi Launcher. You need to install the Hi Launcher before installing this iOS 7 theme. Once you install theme, go to Hi Launcher, click menu button and select "Theme" option to apply iOS 7 Theme.
Based on Espier Launcher
Another theme application is the Espier Launcher iOS7 . This helps you experience the iOS 7 fonts, icons, effects etc. on an android phone!.
You may also try another app  to give iOS 7 Lock screen Parallax HD effect!